Trina's Marian (PTKL4)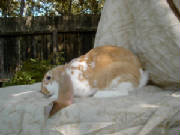 Ears: 25" x 5"
DOB: March 12, 2004
Crawford's King Louie x Dara's Patricia Pigg
Marian has proven herself to be a very good mother. She is so easygoing and sweet. I just love her temperment. Her babies would make great first time English Lops for anyone. I am taking one of her son's to Convention. He looks a lot like her.
1 leg




Amy's Gabriella (AS BREAKING FREE)
Ears: 24" x 6"
DOB: March 9, 2006
Crawford's Jailbait x Parker's Vanneste
Gabriella is as sweet as her mother Vanneste. She won her class at 2006 ARBA Convention in Texas. She is a proven mother and I will be showing 2 of her daughters as intermediates in Michigan.